Professor Kan Yue, Vice Dean of College of Education, Zhejiang University visits UNESCO INRULED
2021-07-27
On the afternoon of July 26, Professor Kan Yue, Vice Dean of College of Education, Zhejiang University, and Director of UNESCO Research Center of Zhejiang University, paid a visit to UNESCO INRULED. Professor Zeng Xiaodong, Executive Director of INRULED and other staff of the Centre attended the meeting.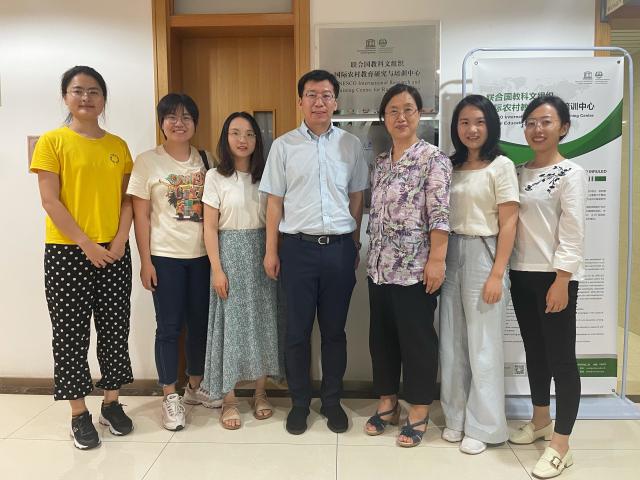 INRULED kicked off the Summer Practice Project with strategic partners this summer to enrich the Centre's research in five work areas, namely Gender Equality and Women Leadership, ICT in Education for Rural Development, Skills Development for Rural Transformation, Quality Teachers for Rural Schools, and Ecological Civilization and Sustainable Development Education. INRULED has a long-standing connection with the College of Education in Zhejiang University. This summer, several undergraduates and doctoral students from Zhejiang University participated in this program.
Director Zeng Xiaodong welcomed Professor Kan's visit, presented a brief summary of the Centre's programs, and introduced the arrangement of the upcoming Summer Practice Project. Professor Kan Yue introduced the research and efforts of Zhejiang University's College of Education in global education governance and talent cultivation for international organizations. He acknowledged and supported the Centre's Summer Practice Project. The two sides discussed the future cooperation, hoping to contribute to the achievement of SDG 4 jointly - Ensure Inclusive and equitable quality education and promote lifelong learning opportunities for all, and China's engagement in global education governance.