On the afternoon of June 11, an international symposium on "Digital Girls: Girls' Engagement in ICT in the Asia-Pacific Context" was held by the UNESCO International Research and Training Centre for Rural Education (UNESCO INRULED). The symposium engaged participants from acamedia, industry and social organizations, including Professor Atsuko Shimbo(Department of Education, School of Education, Waseda University), Professor Edward Vickers (Faculty of Human-Environment Studies, Kyushu University), Special-term Professor Zhuzhu Wang (Faculty of Artificial Intelligence, Central China Normal University), Dr. Qing Li (Assistant Researcher of National Engineering Research Center of Educational Big Data, Faculty of Artificial Intelligence, Central China Normal University), Dr. Philip Wing Keung Chan (Senior Lecturer, Faculty of Education, Monash University), Ms. Carol Qin (Director, Education Industry, Intel China), Ms. Hanrui Ma (Founder of Girls Can DIGI), Ms. Yiping Wang (Research Analyst of Smart Education Institute, Beijing Normal University), Professor Lili Zhang and Associate Professor Baoping Li of (Faculty of Education, Beijing Normal University), and Professor Xiaodong Zeng ( Executive Director of UNESCO INRULED). The event was moderated by Dr. Yuchi Zhao, Deputy Director of UNESCO INRULED.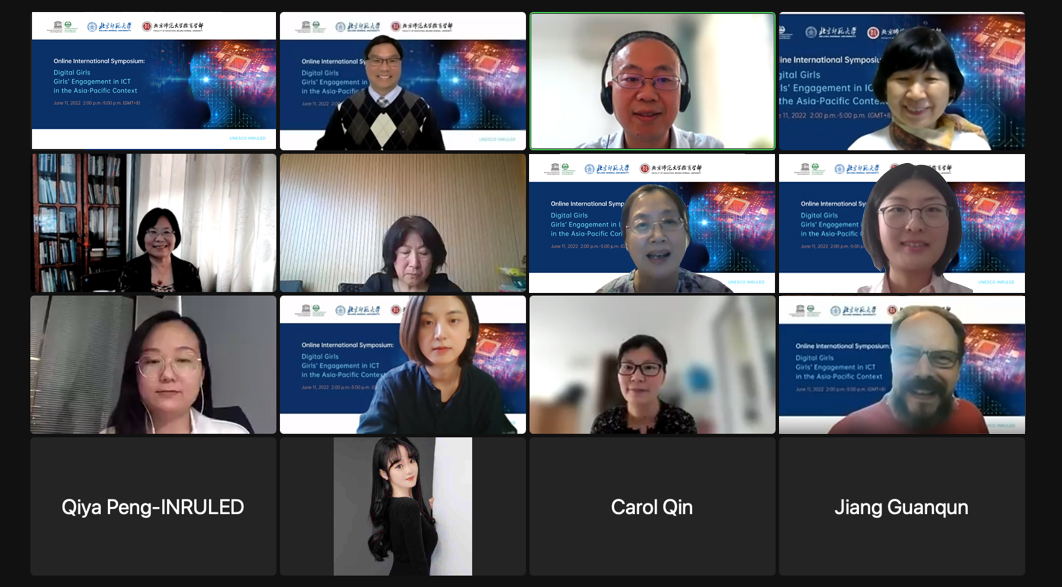 The symposium aims to understand the digital divide faced by rural women and girls and explore its root causes, share practices related to promoting digital skills of girls and women, and focus on building collaborative networks related to the theme of digital girls. The symposium provides a platform for experts, researchers, young scholars and others to share their knowledge and practices, to discuss the conceptual development of "digital girls", and to find solutions to bridge the digital gender divide.
Dr. Qing Li and Professor Zhuzhu Wang shared a presentation titled Digital Learning of Female Teachers and Girls in the Post-universal Education Era in China. They reflected on the digital learning of girls in the post-universal education era in China, pointing out that girls' education in China has undergone historical changes and girls are learning and using technology to enhance their learning outcomes. They suggested that the development of digital education for girls should be comprehensively promoted, and that multifaceted measures should be taken to continuously improve the education level of girls, so as to build a high-quality monder education system.
Associate Professor Baoping Li and Ms. Yifan Lu presented a report titled Shaping Students' Learning Experience: Insights from Cases in Rural and Urban China which introduced a research project on rural ICT education in central and western China and a related study commissioned by UNESCO Bangkok, with a view to understanding the actual situation of ICT construction and application in primary and secondary schools in China, as well as identifying factors and conditions for successful application of digital technology in schools from a gender perspective.
Professor Atsuko Shimbo gave a speech on Current Situation and Challenges of ICT Education in Japan - From a Gender Perspective. She indicated that cultivating the interest and awareness of rural girls and women in IT, equipping them with basic knowledge and skills in IT, and helping them to break the double discrimination between urban and rural areas, and between men and women, will not only benefit the IT industry, which is short of human resources, but also help empower women and promote rural revitalization.
Ms. Yiping Wang shared her research on Gender Gap in ICT Uses and Engagements in Hong Kong (China), Korea and Japan on behalf of the research team led by Professor Lili Zhang. She pointed out that ICT is currently transforming our society and education, yet there is still gender inequality in ICT, which is not only found in East Asian societies but is a common problem in different parts of the world. She emphasized that women should be encouraged to use digital devices and to explore the use of digital devices on their own or with their peers. Meanwhile, teachers and parents need to change their gender stereotypes.
During the symposium, the guest speakers also shared practices on Empowering Girls through Digital Skill Training. Ms. Carol Qin talked about Intel's corporate responsibility for social development, helping more women to be engagaed in digital technology to create a more responsible, inclusive and sustainable future through the 2030RISE strategy and organising female role model workshops. Ms. Hanrui Ma shared the Girls Can DIGI programme, which is dedicated to exploring the potential of young women in STEM. By designing STEM learning materials for girls, encouraging them to collect and use information, and producing and sharing case studies about girls' success in ICT, the project aims to break gender stereotypes, empower women to achieve their academic and career goals.
In the session of discussion, Professor Edward Vickers responded to the issues raised by the guest speakers, indicating that we need to be careful about assuming that engagement with ICT will solve problems of gender imbalance or any other social issues, and we need to take into account of other factors like policics and culture. Dr. Philip Wing Keung Chan shared some data on women's participation and performance in ICT. He pointed out that we need to clarify the concept of "digital girls" and reflect the voice of girls in policy development. In addition, it is essential to develop on girls' talents and build a supportive social system for girls towards an inclusive, friendly and diverse society.
In the closing remarks, Professor Xiaodong Zeng proposed to grasp the new scenario of digital education development and rethink the role of ICT in shaping the future of education. She emphasized that schools and enterprises, as key players in the digital transformation and digital practice of education, should work in partnership to address digital girls' education in the Asia-Pacific context and to empower educational development and innovation. She also sent an intivation to the invited experts to participate in future projects and activities of UNESCO INRULED on digital girls.
Please check the following link to watch the recording of the symposium: https://www.youtube.com/watch?v=i6PoUWs4rmE&t=1852s