From 4 to 9 July, the 2nd Jingshi Students' International Exchange Festival and Global Competency Summer Training Camp was successfully held online. The global competency summer training camp was guided by the "Global Competence" framework proposed by the Organization for Economic Cooperation and Development (OECD).It was based on project management strategies and tools such as "Results-Based Management (RBM)" and logical framework of international organizations as core content. Through expert lectures, participatory workshops and interactive exchanges, the camp aimed to enhance students' understanding of global development issues, strengthen their knowledge of international organizations, employment standards and the core value systems, to train and reserve a batch of international talents with inter-cultural understanding and global perspectives.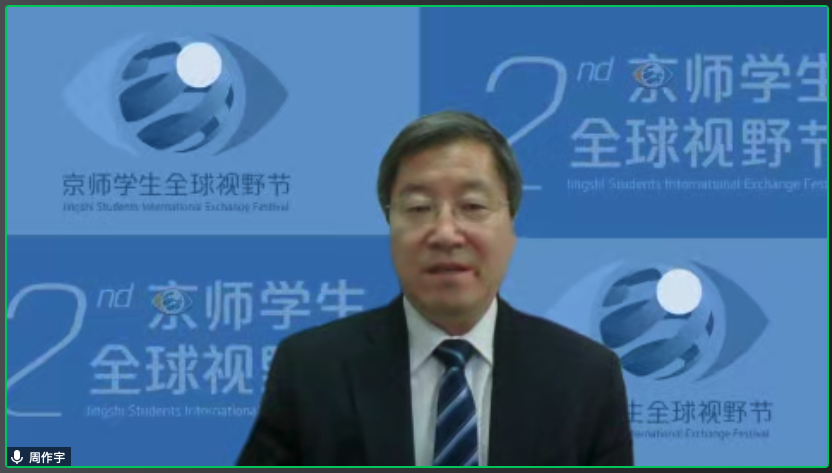 Zhou Zuoyu, Vice President of Beijing Normal University (BNU)
During the week-long training camp, Zhou Zuoyu, Vice President of Beijing Normal University (BNU), delivered an opening speech. Tang Qian, former Assistant Director-General for Education of UNESCO; Hu Wenbin, Director of Cambridge Education Asia-Pacific Region; Teng Jun, Professor of the Faculty of Education of BNU and other international organization staff, senior experts and young talents gave excellent lectures, project management strategies and practical guidance to the students.
In the opening speech, Zhou Zuoyu said that the current international community is turbulent, and the complex international environment has brought many challenges. The more significant the challenge, the more determination is required. Global governance requires extensive international participation and talent support. Cultivating high-level talents with global competence and promote the reform and development of global governance are both a real urgency and a long-term necessity. Universities should undertake the critical mission of cultivating global governance talents.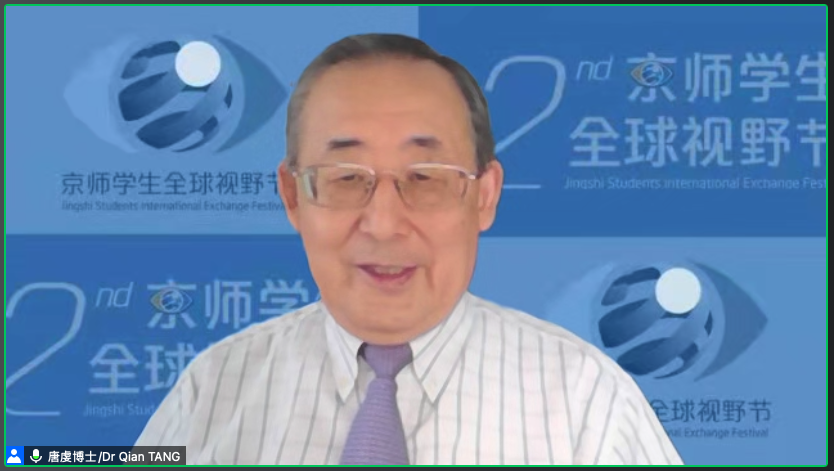 Dr. Tang Qian, former Assistant Director-General for Education of UNESCO
The first session of the camp featured a keynote speech by Dr. Tang Qian, entitled "My 25 Years in International Organizations". Combining his diverse experience in international organizations, from the perspective of "Global Competence", he systematically described the process, importance and the constraints of China's participation in global governance. He elaborated the core qualities that young people should have to "be able to get in, stay, and do well" in international organizations. He hoped that young students would have international knowledge and global vision, a diverse and inclusive mindset, good language and communication skills, and be familiar with and abide by the operating rules of international organizations. He encouraged young people to explore themselves, connect with the world and find ways to change the world in a down-to-earth manner.
During the camp, the students participated in three thematic lectures, participatory workshops of the three core courses and two sharing sessions in the mode of group cooperative learning, combining theory and practice, knowledge and application.
Three Thematic Lectures
The camp encouraged students to participate in the three thematic lectures, promoting students from "passive listening" to "active thinking" and learning by doing.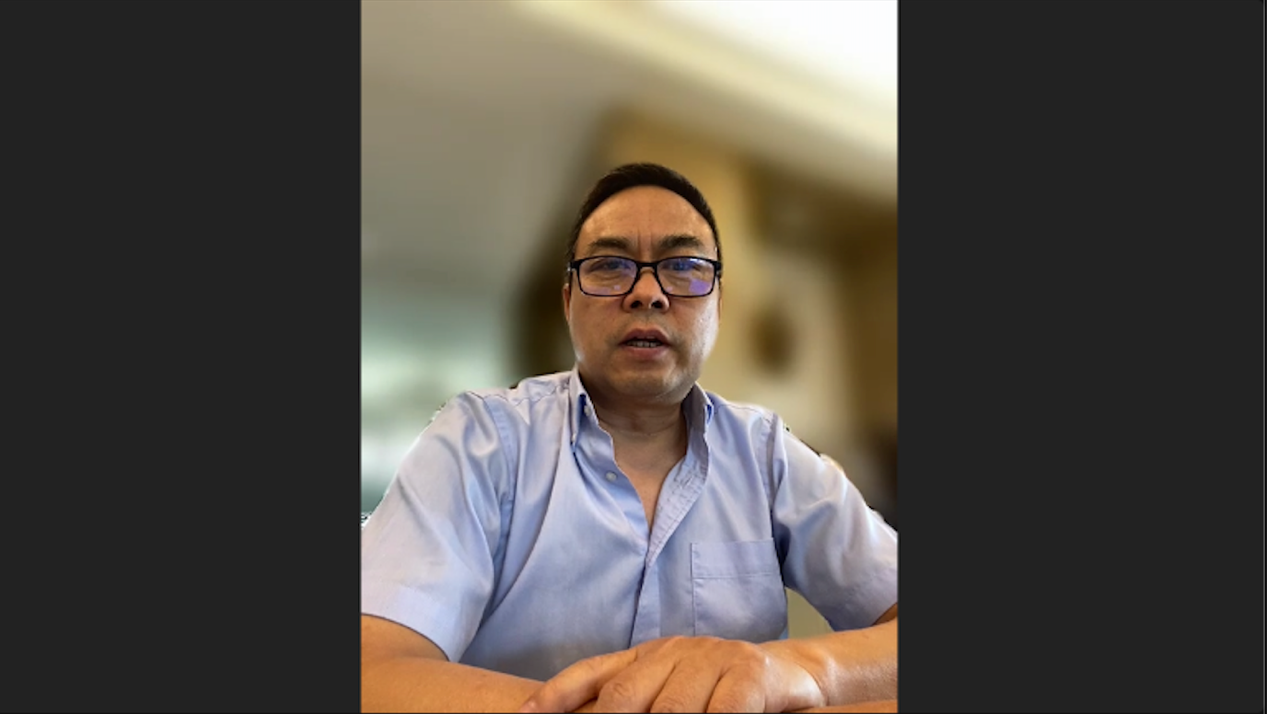 Hu Wenbin, Senior Education Consultant at Mott Macdonald, took "Technical Support in Educational Development Projects" as the topic, started with the concept of "development" and explained "What is technology in educational development projects?" through concise theoretical explanations, interactive exchanges, etc. "Why do we need technical support?", "Who provides technical support?", "Who receives technical support?" and "How to manage technical support?", and help students understand how to write TOR(Terms of reference) through case analysis.
The second session was themed on "Sustainable Development Goals (SDG)", where the speakers shared their thoughts on social issues based on their own experiences, helped students understand the SDGs and their broader connotations through group discussions, and guided them to start from small things in daily life to explore the relationship between the SDGs and our lives, encouraged them to think about what were their own contributions to SDGs and learn from each other.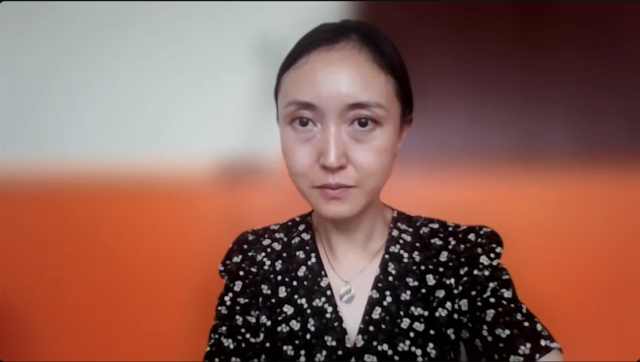 Teng Jun, professor at the Faculty of Education of BNU, gave a special lecture on "What kind of talents do international organizations need?". In the beginning, she guided the students as youth representatives to complete a side event speech at an international conference, hoping to help the students open new ways of thinking. She encouraged the students to review the side event speaking activities with reference of the United Nations Future Competency for the future, to help them visualize the core competencies required by international organizations, and pointed out that global competency is an ever-evolving concept. She stressed that the world is undergoing profound changes unseen in a century, and young students should consolidate the underlying logic of global competency.
Three Core Courses
The course uses a participatory workshop approach to help students design projects from real-world problems, using contextual teaching methods, real-life examples and sharing of management tools to develop practical project plans.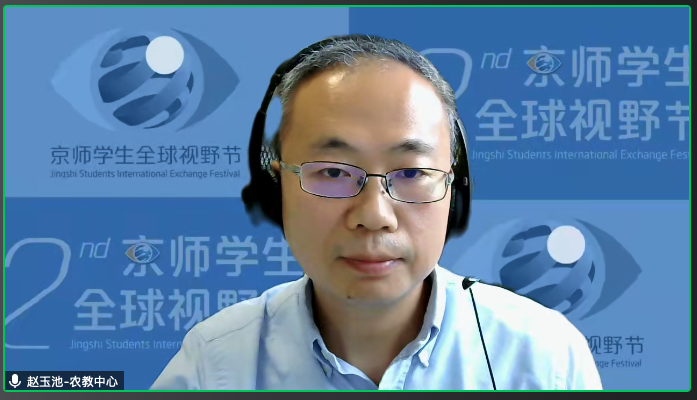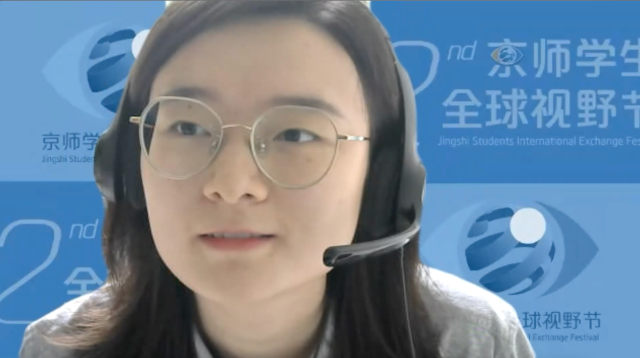 Zhao Yuchi, deputy director of UNESCO INRULED and Wang Siyao, the project assistant at UNESCO INRULED, jointly facilitated the participatory workshops, focusing on hot spots in today's development field, with the international organization RBM, logical framework, conference organization, and project management strategies and tools such as official document writing being the core content, combined with real project cases. The course teaches project management methods, helps students to work in groups to work out a project plan, with a view to enhancing their ability to analyze and solve problems through their own practical operations and developing a "results-oriented" and "needs-based" mindset.
Two Exchange Sessions
The sharing session aims to create a platform for experience exchange and sharing, to help students interact with young talents, convey the power of growth, and awaken their imagination about their future career development.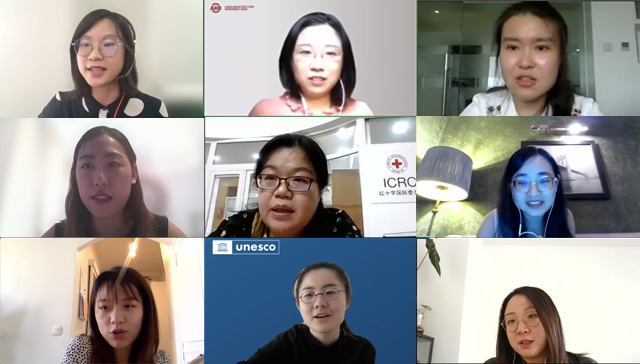 The young role models from UNESCO
Ten young role models from UNESCO, UN-Habitat, International Labour Organization(ILO), German Agency for International Cooperation (GIZ), Asian Infrastructure Investment Bank(AIIB) and the International Committee of the Red Cross(ICRC) provided detailed information for the students. They introduced the general context and talent recruitment requirements of various international organizations, analyzed the challenges and opportunities faced by Chinese in international organizations in aspects of international organization recruitment, talent management system and application experience, etc., and encouraged everyone to step out of their comfort zone, challenge themselves, set up aspirations, seize opportunities, go to the international stage to realize life value, and make contributions to build a community with a shared future for mankind.
The Closing Ceremony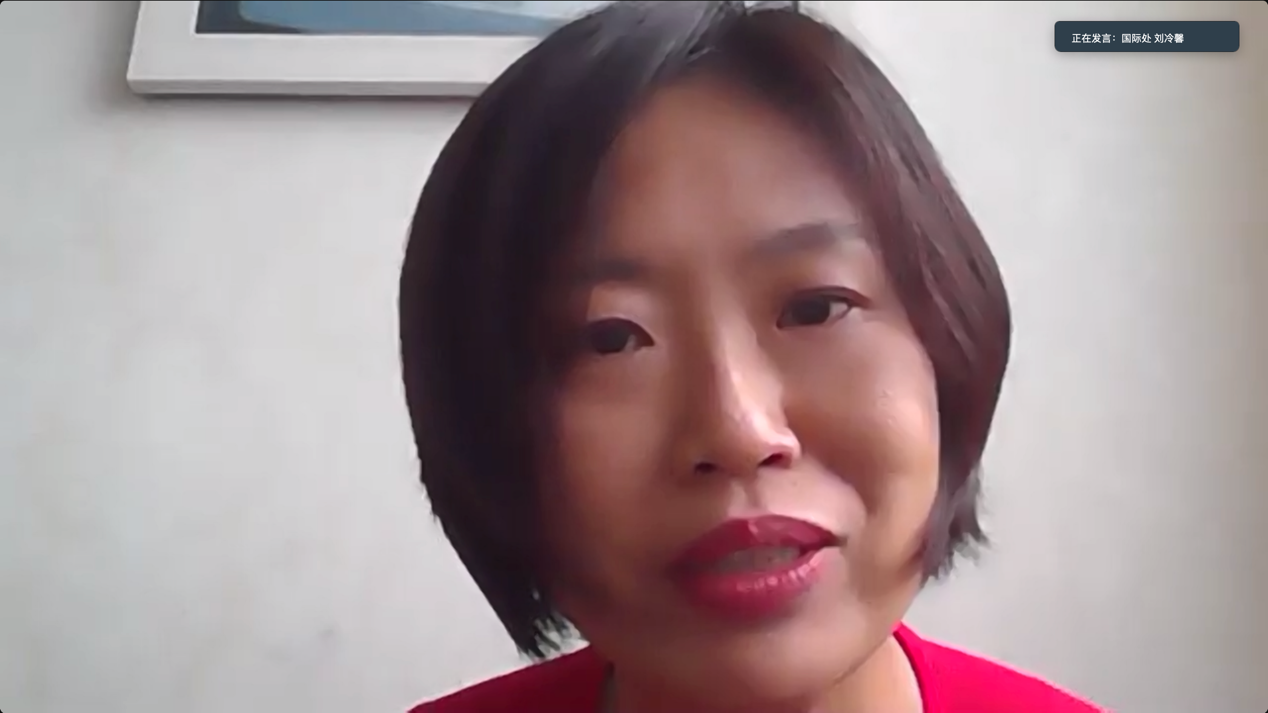 Liu Lengxin, Deputy Director of the Office of International Exchange and Cooperation at BNU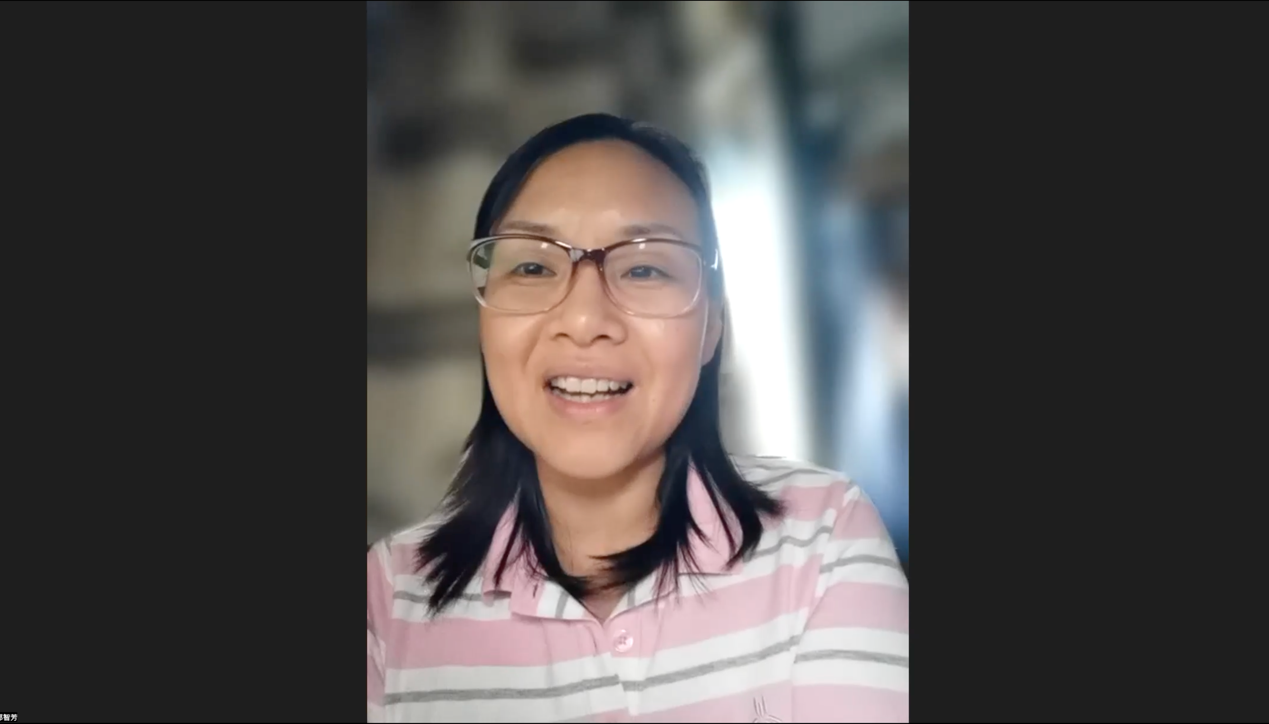 Guozhifang, Director of Career Development and Employment Guidance Center of the Student Affairs Department of of BNU
At the closing ceremony on 9 July, the students presented the project plan completed during the camp in groups, and expressed their reflections. Liu Lengxin, Deputy Director of the Office of International Exchange and Cooperation at BNU, congratulated all the students who completed the camp in her closing speech. She pointed out that the success of this camp conforms to the trend of cultivating outstanding talents with an international perspective in the new era.She hoped that students can further improve their professional knowledge and language skills, their ability of peer-learning, continuous learning and teamwork. Guozhifang, Director of Career Development and Employment Guidance Center of the Student Affairs Department of of BNU, attended the closing ceremony and delivered a speech. She encouraged young students to devote themselves to promoting exchanges and mutual learning between civilizations.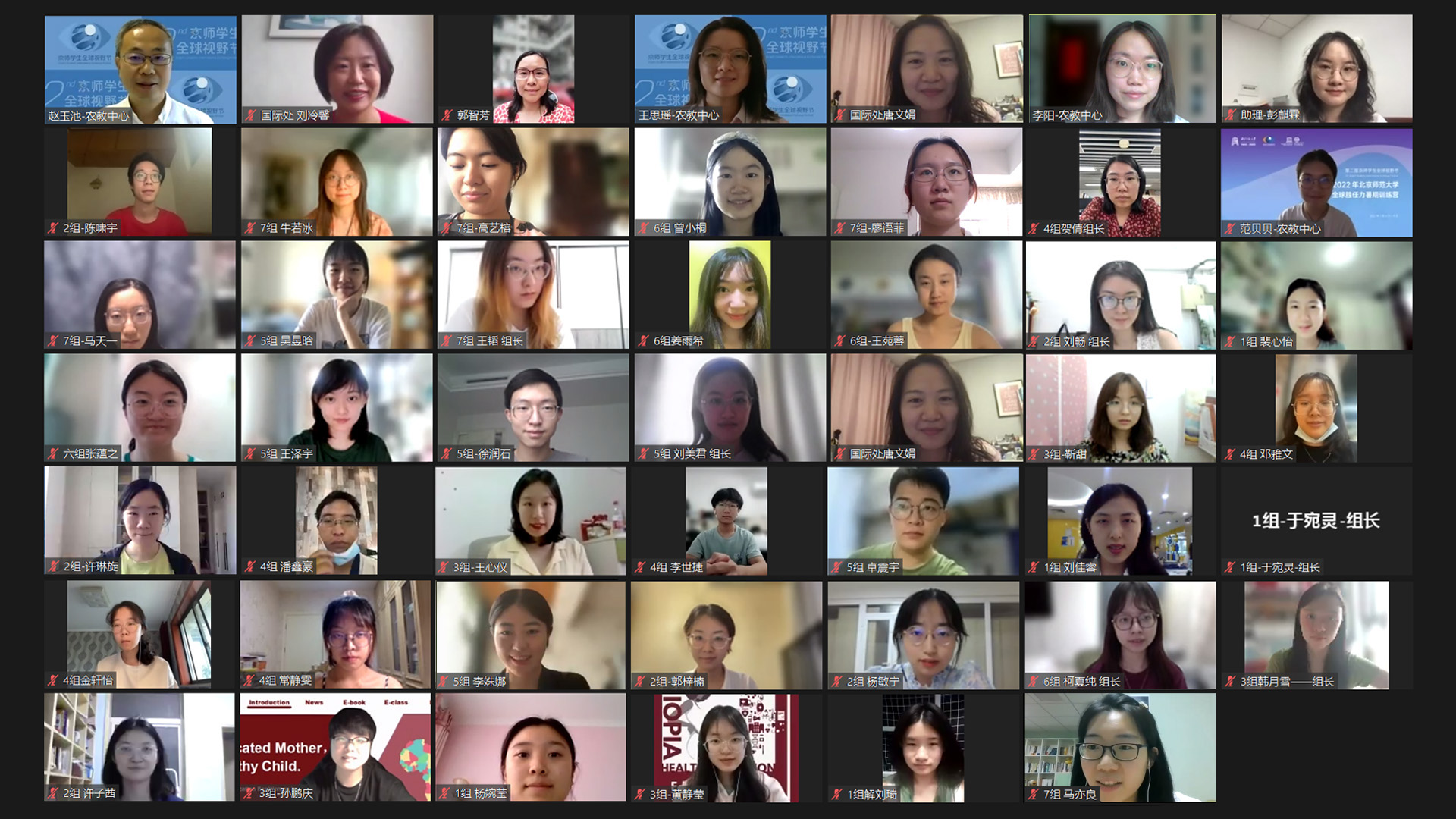 The camp is organized by the Office of International Exchange and Cooperation at BNU, UNESCO INRULED, the Student Affairs Department, BNU, the BNU Youth League and the Office of International Exchange and Cooperation at BNU Zhuhai. More than 120 applications were received, and 42 undergraduate and graduate students from 18 departments of the university were selected to be official participants.
Testimonies from participants
I think the biggest growth is that I stepped out of my comfort zone and dared to challenge myself. During the camp, I kept reflecting how to be a team leader, how to meet deadlines, and how to give answers that would satisfy our group, but it turned out I did.
Yu Wanlin
This training camp is a combination of knowledge and practice, and the content is amazingly rich. During the camp, not only did I improve my awareness of international organizations and their related work goals, but I also mastered project management skills and worked with students in the group. In just one week, I also had my own output.
Xu Linxuan
The six-day training camp life gave me a close understanding of international organizations. In addition, I also learned a lot about project planning. After the course study and mutual cooperation, the team members completed the project plan excellently.
Jin Tian
In this training camp, I learned more about the general context of international organizations and what kind of talents international organizations need in order to improve my abilities in a targeted manner. I was also exposed to many new topics: theories of change, assumptions and risks in project management. I put these theories into project practice and came to have a deeper understanding.
He Qian
In just six days, I gained a fulfilling experience exceeding my expectations. This is definitely the most "offline" online activity I have ever participated in. I have been exposed to systematic but multi-dimensional knowledge and produced a learning outcome. In addition, I also learned a lot of things beyond the definition of knowledge from teachers and other campers.
Wu Yuhan
During the training camp, my biggest gain was understanding international organizations, especially UNESCO, from different levels and angles. In addition to expanding my horizons, I also learned analysis methods and logical frameworks related to project management and planning. On this basis, I carried out practical applications. The pressure and joy of challenges coexisted, and I felt quite rewarded.
Zeng Xiaotong
This training camp is very substantial: the writing of official documents, the parts that need to be covered in the project plan, how to be " specific" while designing the project, and "see the big from the small", etc. Especially when we were designing the "problem tree" and "problem-solving tree", the feeling of "irrigating and cultivating" a problem tree when everyone collided with each other in the discussion, really excited and shocked me.
Gao Yirong
(only a few of the reflections are selected)