In response to the invitation of the Ministry of Education in Sri Lanka for capacity building of teacher education institutions, UNESCO International Research and Training Centre for Rural Education (INRULED), the Faculty of Education of Beijing Normal University (BNU) and the Ministry of Education of Sri Lanka cooperated to organize an international workshop Building a High-Quality Teacher Team in Rural Schools at BNU from October 22 to 26. Teacher education officials from the Ministry of Education in Sri Lanka, as well as 25 deans and vice-deans from 19 National Institute of Education participated in the workshop.
Huang Ronghuai, Director of INRULED, Zhu Xudong, Dean of Faculty of Education of BNU, Mohamed Farook Noorul Harija, Director of the Teacher Education Management Department of the Ministry of Education in Sri Lanka and Robert Parua, Education Program Officer of the UNESCO Office in China, attended the opening ceremony.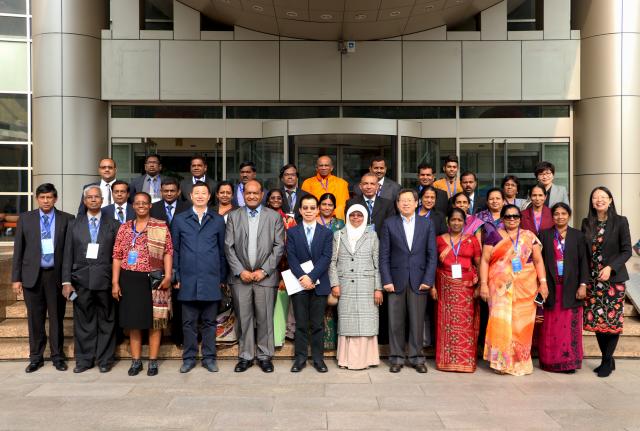 Guided by the "Education 2030" framework advocated by UNESCO and based on the actual needs of teacher education in Sri Lanka, the workshop designed and implemented a variety of learning activities for the participants. The workshop was conducted by senior experts from UNESCO Beijing Office Education Program, senior officials for Primary Teacher Education at the Ministry of Education in Uganda, and teacher education experts from the Education Department of BNU and Beijing Institute of Education.
The workshop also went to Pinggu District Education Committee, Pinggu District Fangguang Central Primary School and Chaoyang District Louzizhuang Central Primary School to visit the campus, observe the classroom and talk with the leaders of local education committee, principals and teachers. Through various forms to learn about the professional development of rural teachers, classroom teaching and school-based teaching and research in China, the participants expressed that they had gained a lot from the week-long study.
International Research and Training Centre for Rural Education (INRULED) was jointly founded by UNESCO and the Chinese government in 1994. As a UNESCO category 2 centre, INRULED aims to promote sustainable development through education in rural areas. Over the years, INRULED has provided many high-quality training and learning opportunities for UNESCO Member States with the support of BNU. This workshop is a paradigm of UNESCO category 2 center supporting the capacity building of teachers in Member States, which lays the foundation for future in-depth cooperation in the field of education.